Recommended Reading on Critical Pedagogy & Popular Education (Books)
Pedagogy of the Oppressed, Paulo Freire, 1970


A critical pedagogy booklist would not be complete without Paulo Freire, the 'godfather' of the movement. It sounds cheesy, but this book has had a total life-changing effect on me. While there are criticisms, around language and gender, the book is still an absolute bible of knowledge and revolutionary hope. If you read any book, read this one.

A Critical Pedagogy of Resistance, 34 Pedagogues we need to know, Edited by James D. Kirylo, 2013

Fantastic whistle-stop tour of various actors in critical pedagogy, past and present, and how they have influenced the field. Really useful if you want an introduction to some inspiring people and their ideas and learning from engaging in struggle for social justice in education. Highly recommended.

Learning as a way of Leading, Lessons from the struggle for social justice, Stephen Preskill and Stephen D Brookfield, 2009

These two Stephans have produced a gold mine of a book that should be read by anyone involved in collective projects, organising or education. It is written in a really nice concrete sequential way with key points and case studies. It basically introduces how people can learn to be more leaderful, and how all of is becoming more leaderful is necessary for social change. For anyone that cringes of concepts of 'leadership' (like I do) read this book as a way to transform your groups to make everyone more effective and empowered. A must read!
Do it Yourself: A Handbook to Changing the World. Chapter 7 Popular Education - Why we still have a lot to learn
The Trapese Collective have created a great resource on popular education, in a chapter about pop ed in their book about social change. It introduces the principles, practices and history of popular education. And you can download it for free here. Highly recommended.

Teaching Critical Thinking, bell hooks, 2010

As part of a series on education, this book introduces the importance of supporting learners to think critically. From decolonisation, to encouraging emotional expression in the classroom, bell hooks is as radical as ever. Very easy to read, with lots of hidden gems.

Integrating Mindfulness Into Anti-Oppression Pedagogy, Social Justice in Higher Education, Beth Berila, 2016

I loved this book. I was unsure whether to order it at first but I'm so glad I did. Of all the books I've read during this masters project, this one has the most underlinings, the most times I've came back to it. Beth really explores the body in education but within a bigger context of doing anti-oppression work. She writes about how we all internalise oppression in different ways (connected to our power and privilege, or lack of) and how different mindfulness strategies can not only allow us to feel this more fully, but act on it and use it as a vehicle for learning. Highly recommended.

Reinventing Critical Pedagogy, Widening the circle of anti-oppression education, Edited by César Augusto Rossatto, Ricky Lee Allen and Marc Pruyn, 2006

Highly recommended book that transverses the critical pedagogy landscape. It's my favourite kind of book - one that is a series of articles with lots of different perspectives and authors. At times its a bit of a hard academic read, but overall it is rich in commentary on education. Most contributors are quite engaged in the pedagogy field and its feels like its written directly for educators on these frontlines, so it is engage, useful and relevant.

Teaching to transgress, bell hooks, 2010


This is one of those books that you read, and then you find yourself thinking about it. Sentences rise up to your consciousness as you reflect on things or write articles. Like all her writing, its super-readable, like a bed time story rather than a challenging academic endeavour. This book is about transgressing racial, sexual and class boundaries in order to achieve the gift of freedom. A must read.

Imagining tomorrow, Adult education for transformation, Marjorie Mayo, 1997

The most interesting chapter of this book was 'Adult and Community Education: combatting discrimination and oppression'. It describes how access is only part of the problem and that content is a huge part of what defines an educational experience as domesticating or liberating. The chapter also introduces different barriers to education in terms of race, gender and class. What is very interesting about this book is its insight into adult education and how its changed.

Community development, A critical approach, Margaret Ledwith, 2005

I'd entered the murky world of community development through my work as a grassroots organiser and never quite felt comfortable with the frameworks, terminology, worldviews used at events or meetings. This book is interesting in learning about the departure from more radical, social change work to things like service delivery. While not so many new concepts to a seasoned anarcho, this book did help me to see the bridge between the worlds and introduced me to a more radical way of looking at development and the context of education within this.

Feminist Pedagogy, Looking back to move forward, Edited by Robbin D. Crabtree, David Alan Sapp and Adela C.Licona, 2009

I was really excited when this book landed on my doorstep. It felt like climbing a mountain of academic language to access the treasured views at the top - of which were great insights into feminist approaches to the art, craft and science of teaching. The chapter I found most interesting was 'Feminist pedagogy and science', that really flagged up the socially-constructed and dominating masculinity of science, with some very ingenious ways of integrating more politically critical approaches and feminist approaches in the example of a geology class.

Deschooling Society, Ivan Illich, 1970

I haven't read this book fully yet, but Ivan Illich has maintained a radical reputation in flagging up just how pivotal educational institutions, such as schooling and university, are to maintaining the capitalist system.

Critical Pedagogy, Ecoliteracy and Planetary Crisis, The Ecopedagogy Movement, Richard Kahn, 2010


I appreciate that this book has been written and see it as a starting ground for more links between critical pedagogy and ecological learning. I didn't always feel that the whole book was politically congruent however there are some very interesting chapters, the most useful being the introductory chapter. I really like how he challenges 'greenwashing' environmental education programs.

Pedagogy of Praxis, A dialectical philosophy of education, Moacir Gadotti, 1996

This book wasn't an easy read, but I definitely learnt a lot of new vocabulary! While the language at times was a struggle, and sometimes the concepts didn't feel relevant or 'modern', the book is actually full of subtle sentences that hit the nail on the end of the oppressive nature of capitalist education and the necessity for alternatives.

Dangerous territories, struggles for difference and equality in education, Edited by Leslie G. Roman and Linda Eyre, 1997

I haven't had the pleasure of diving into this fully, so can't give it a solid review. However its been described that it "intends to trouble the State, queer the academy, and decenter the very colonialsims that surround and organise our classrooms". It is coming out of Canada but has various international authors, again, of academic leanings.
Key Anarchist Pedagogy Resources
Anarchist Pedagogies: Collective Actions, Theories, and Critical Reflections on Education. Edited by Robert H Haworth

This book was hugely influential in my life. Bringing multiple perspectives and experiences, it introduces the wide diversity of perspectives on anarchism and education. An absolute must read! And its downloadable as a pdf online.

Anarchism and Education, A philosophical perspective, by Judith Suissa

I've only got the pdf version of this book so haven't made as much effort to dive into its pages. Its published by PM Press, who seem to be at the forefront of radical publishing these days. It's a good book to read for those new to anarchist ideas, who want to gain an understanding of how they distinguish from other pedagogical theories. Worth reading.

Radical Education Forum

For organisers and educators living in the UK, check out the Radical Education Forum who meet regularly in London, organise events and create resources about radical education. They produced this Radical Education Workbook which is a big mix of resources critiquing state education and promoting alternatives.

Occupied Times, State of Education

The Occupied Times came out of the Occupy Movement in London and has matured to become a really inspiring source of critical analysis and reflection for struggle. In their 28th Issue they focus on education and state control. An inspiring editorial collective.

Class War University

The Class War University describes itself as "a common project and informal network of cooperation—composing resources for anti-capitalist, decolonial, abolitionist, feminist, queer, anti-authoritarian movements on the terrain of universities and beyond." This website is an absolute treasure trove of resources and insight.

Institute for Critical Animal Studies


Folks that know me know that I am not an anti-intellectual, however I generally have a distaste for academia mainly from life experiences where people have interacted with me like a subject for study to complete their research and build their career, rather than struggled for total liberation. ICAS is an initiative for academics, but it feels kinda different. Or at least I have a soft spot because I know a few of these folks and respect how engaged in social struggles they are. ICAS has a theme of 'critical animal pedagogy' which really excites me. Keep checking their resources and journals, because they are some diamonds of insight in there into how we can transform our lives and worldviews on animals and other forms of oppression. This is an inspiring example of how we can leverage institutional resources for radical social change.

Institute for Anarchist Studies

The Perspectives on Anarchist Theory Journal is one that I also return to over and over. Some really awesome critical thinking happening, pushing for continuous redefinitions of what anarchism or a commitment to eradicating domination means. There are often references and reflections on pedalogical projects.

Class Action: A Teachers Handbook

More of a socialist project, this handbook coming out of Chicago, is still useful for those struggling against and within state education. Some interesting analyses of the 'industrial classroom' and some inspiring examples of organising and resistance in the US. Highly recommended for those who are burnt out, distressed or in absolute despair at the reality of State education in the west.


Key Anti-Oppression Education Resources
AORTA


AORTA are the anti oppression resource and training alliance. Aortacollective.org They have a ton of well produced resources for anyone involved in facilitating groups or more generally working for change. I'd definitely recommend their Resource Zine which collates a lot of their ideas.

Integrating Mindfulness Into Anti-Oppression Pedagogy, Social Justice in Higher Education, Beth Berila, 2016

I loved this book. I was unsure whether to order it at first but I'm so glad I did. Of all the books I've read during this masters project, this one has the most underlinings, the most times I've came back to it. Beth really explores the body in education but within a bigger context of doing anti-oppression work. She writes about how we all internalise oppression in different ways (connected to our power and privilege, or lack of) and how different mindfulness strategies can not only allow us to feel this more fully, but act on it and use it as a vehicle for learning. Highly recommended.

Uprooting Racism. How white people can work for racial justice by Paul Kivel, 2011

I really recommend this book for white people. It's written by a white guy, and has a ton of exercises and excerpts which can support white people to more critically reflect, and importantly act to uproot racism and destabilise white supremacy.

bell hooks

Any of bell hooks's books are great informative reads on the intersections between race, gender, class and education. They are also written in a very readable digestible, personable way, making them accessible to a wide audience.

Anarchism and Animal Liberation. Essays on Complementary Elements of Total Liberation, Edited by Anthony J. Nocella II , Richard J. White and Erika Cudworth, 2015
A great book linking the oppression of animals to other forms of domination in society. I'm also briefly featured in it! There is also a chapter specifically on critical animal pedagogy and the role of popular education.

Why is my curriculum white? Decolonising the Academy

Blog post from the Black Students Committee of the National Union that introduces ideas of decolonizing curriculums. This brings me back to the importance of content not just process.

Decolonising Our Minds Society

This is a society coming out of SOAS University (School of African and Oriental Studies) based in London. They organise events and have an active Facebook page. The focus is on decolonisation, with a lot of emphasis on decolonising education.

Organising for Power Anti-Oppression Resources and Exercises

A whole toolkit for educators and organisers on different forms of oppression. I would definitely recommend these resources as good introductions for white folks starting to examine their privilege.

Anti-Oppression Resources for Cooperatives

Once again, another directory of useful resources on anti-racist and other anti-oppression resources, with a focus on co-operatives.
Open Source Workshop Designs
Key Agroecology & Education Resources
Movements in Education: The Political Ecology of Education in the Brazilian Landless Workers' Movement by David Duncan Meek

I stumbled across this dissertation when research educational models of the MST (O Movimento dos Trablhadores Rurais Sem Terra or MST)  It was explosively informative - not just about the role of education in the MST, but also around concepts of the political ecology of education. Meek describes the political ecology of education as, "one attuned to how the distribution of power and resources among interconnected political and cultural entities mediates pedagogical processes—from tacit to formal learning—and related knowledge systems, affecting access and control over natural resources, interactions with the cultural landscape, as well as conceptions of nature-society relationships."

Campesino A campesino - Voices from Latin America's farmer to farmer movement for sustainable agriculture, by Eric Holt-Giménez


For someone living in England, who has never traveled to Latin America, there is a risk of romanticising social movements in the global south. Feeling the all-encompassing alienation of advanced capitalism in its birth place of the British Empire, we can have a colonising tendency to want to copy social movement strategies from elsewhere. Likewise with agroecology/food sovereignty/sustainable agriculture movements, I think we hold up international examples without the critical thinking to understand our differences and how not every model can be transferred from country to country. This book was so grounding in this respect - it is full of stories and voices that Eric has simply desired to listen to and share. There is no white saviour, just an thoughtful account of the farmer-to-farmer movements of latin america from someone that has lived and breathed it for decades. A very inspiring read, which re-strengthened my commitment to food sovereignty and the necessity of resisting global capitalism that threatens people of the land on every continent.

Agroecology in Action: Extending alternative agriculture through social networks, by Keith Douglas Warner

This book comes out of direct experience developing partnerships to reduce pesticide use in California, with many other examples drawn from across the US. It felt really illuminating and has influenced some of my project design work in my workers cooperative, encouraging us to recognise more fully the role of social networks and collaborative learning relationships. Keith writes how "Agroecological initiatives require a collaborative network to facilitate this social learning". Recommended for anyone engaged in wanting to change land-care practices in their community.
 
How to Teach Agroecology: A proposal by Miguel Altieri
This is an article where University of Berkeley Professor, Miguel Altieri proposes a new international program of how to teach agroecology. I had the privilege of being a participant on Miguel's and Clara Nicoll's agroecology course at Schumacher College. It was an amazing experience and I felt in awe of their knowledge and experience in the field, as well as their vibrant politics and connection to social movements. In this article Miguel really articulates well the necessities of different skills and experiences, as well as the core knowledge agroecologists need to have for this changing world.
Agroecology: Key Concepts, Principles and Practices

This is a pdf with the main learning points from training courses in agroecology organised in Indonesia and Zambia. While it doesn't talk about education per se, it is a rich resource for any practitioner designing agroecology-related learning programmes or projects.

Radical Teaching and the Food Justice Movement
This is a featured edition of the Journal Radical Teacher: A socialist, feminist, and anti-racist journal on the theory and practice of teaching. Once again it is focused around food justice movements in the US, however its critique, ideas and examples, can inspire initiatives internationally.  Unlike a lot of dense academic writing, its really easy to read, with good graphic design and images.
Land and Freedom. The MST, the Zapatistas and Peasant Alternatives to Neoliberalism by Leandro Vergara-Camus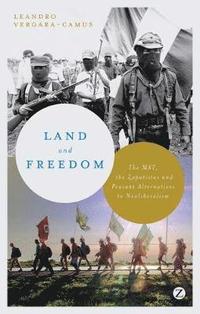 This book compares two of the most inspiring struggles in recent history - the Zapatista Uprising in Chiapas and the MST in Brazil. I remember reading Subcomandante Marcos's words as a teenager, in all its romantic rebellion. This book really shares the main learning from such a strong critical inquiry into these struggles. While not explicitly about education, how people learn, share skills and organise education is still a big theme of the book. A must read.
Baobab Magazine 68 - Rethinking agriculture and extension education
I find the agricultures magazines really informative and readable. While feeling trapped on prison island UK sometimes, I try as much as possible to read resources and materials produced by people from around the world to keep widening my own perspectives. I came across the East African edition of this magazine, and its rich with commentary on projects, initiatives and grassroots education in agroecology.
The Experience of the National Agroecology School: blazing an agrarian trail for small farmers
This was a report produced by an NGO in Ecuador, who have worked for over two decades with more than 25,000 families, organising a host of agroecology training initiatives. Its super visual and inspiring to read. What is exciting is that it has documented how the school was started, and the participatory processes that were integrated into its design. An absolute treasure and must-read.
Ecological Action: A call to action. Learning earth issues - A training manual for urban social justice organisations
This manual has been produced by Movement Generation's Justice and Ecology Project, an inspiring group in the US that are doing some incredible work around social and ecological justice. I first came across Movement Generation when researching liberation permaculture. They had been organising permaculture design courses for organisers involved in various urban struggles. This toolkit, while we can't lift it for the those of us in England, we can be inspired by it - by the creativity and diverse pedagogical practices that we could use in urban agriculture and community food initiatives in GB.
Key Permaculture Education Resources
Permaculture Training of Teachers Course

I would highly recommend that the best resource for becoming a permaculture teacher is to complete a teacher training course. I did one with Designed Visions in 2012 and it was one of the best things I've ever done. You are introduced to a huge amount of resources and best practices from highly experienced teachers.

Becoming an awesome permaculture teacher - a design by Cathrine Dolleris

Cathrine Dolleris from Denmark produced this design as part of her Diploma in Applied Permaculture Design. I love its title! The design does what it says on the tin - it shows you how she has applied design to improve her own teaching practice. Worth reading.

Gaiacraft


Gaiacraft is an initiative creating super high quality, inspiring educational tools for permaculture. From card decks to workbooks, check them out, they are completely stunning!

Permaculture Teacher's Guide, Edited by Andy Goldring, 2000

A must read for anyone teaching permaculture. Loads of session plans and perspectives from different teachers on how they communicate the ethics, principles, practices and processes of permaculture.

European Permaculture Teacher's Partnership

The EPT is a partnership of organisations and teachers across Europe who are actively engaged in teaching permaculture. They produced a Teachers Handbook that you can find here, which is organised as a series of posts in categories which means resources can be continually added to this body of knowledge.

The Earth User's Guide to Teaching Permaculture by Rosemary Morrow, 2014

I shamefully haven't read this yet, but am including it because I've heard great reviews. Rosemary Morrow is a well respected international teacher and who is passionate about permaculture education and has pioneered its development in the field.

Teaching Permaculture As If People Mattered, 2004

Graham Burnett, who I co-teach the vegan permaculture design course with each summer, is one of my biggest mentors when it comes to teaching permaculture. I've literally never met someone so passionate about permaculture (the permaculture principles graphic is even the screensaver of his phone!). Graham was part of a gathering in 2004 that looked at best practices in teaching permaculture. You can get a free download of the pdf with notes from the gathering here, and there is still so much that is relevant today.

Joe Atkinson Permaculture Resources

Joe is the Learning Coordinator for the Permaculture Association GB and a passionate teacher. On his blog he has a ton of resources for people learning permaculture that are also useful for teachers.

Permaculture Teaching Matters


Once again I haven't had a chance to get a copy but have heard great things. After a successful crowd funding campaign, this book is now available online. Permaculture Teaching Matters is Rosemary Morrow's new teaching guide for permaculture teachers. It is based on the popular Teaching Permaculture Teachers Course – a training course designed to assist PDC holders to become effective and inspiring teachers. It covers a sequence of steps over six days to build learner confidence and competence.
Reflections on Coordinating a Nine-week Permaculture Design Course
and Internship, Sophie Viandier, 2016
Sophie is one of my associates in Gaia University. In 2015 she coordinated a permaculture design course in Kenya, and learnt a huge amount from it after experiencing so many challenges on so many levels! Sophie has produced this stunning output of work that is useful for any teacher of permaculture. Embedded in the output are so many links and resources for anyone engaged in teaching permaculture. Find it here.
Full Bibliography
Alonso-Fradejas, A., Borras, S., Holmes, T., Holt-Giménez, E. and Robbins, M. (2015). Food sovereignty: convergence and contradictions, conditions and challenges. Third World Quarterly, 36(3), pp.431-448.
Altieri, M. (2007). How to Teach Agroecology: A Proposal. [online] agroeco.org. Available at: http://agroeco.org/doc/HowToTeachAgroeco.pdf [Accessed 1 May 2015].
Altieri, M. A., and V.M. Toledo. 2011. The agroecological revolution in Latin America: rescuing nature, ensuring food sovereignty and empowering peasants. Journal of Peasant Studies 38(3):587-612.
Altieri, M. and Nicholls, C. (2005). Agroecology and the search for a truly sustainable agriculture. Mexico, D.F: United Nations Environmental Programme, Environmental Training Network for Latin America and the Caribbean.
Annas, P., Chinn, S. and O'Malley, S. (2014). Radical Teaching and the Food Justice Movement: Introduction. Radical Teacher, 98, p.1.
Anon, (2016). Class Action Teachers Handbook. [online] Available at: https://www.jacobinmag.com/supplements/ctu_booklet_final_web.pdf [Accessed 24 May 2016].
AORTA Resource Zine. (2014). 1st ed. [ebook] Available at: http://aorta.coop/ [Accessed 24 May 2015].
Bakx, L. (2015). Teacher's Handbook – Table of Contents | European Permaculture Teachers Partnership. [online] Permateachers.eu. Available at: http://permateachers.eu/teachers-manual-toc/ [Accessed 24 May 2016].
Barnes, H. (n.d.). What now for adult education? Lessons from Derbyshire's miners. Post-16 Educator, (63).
Berila, B. (2016). Integrating mindfulness into anti-oppression pedagogy. Taylor & Francis Group.
Brookfield, S. and Preskill, S. (2009). Learning as a way of leading. San Francisco: Jossey-Bass.
CARE USA and Food Tank, (2015). Cultivating Equality: Delivering Just and Sustainable Food Systems in a Changing Climate.
Carlson, J. and Chappell, M. (2015). Deepening Food Democracy.
Clapp, J., Desmarais, A. and Margulis, M. (2015). Mapping the state of play on the global food landscape. Canadian Food Studies / La Revue canadienne des études sur l'alimentation, 2(2), p.1.
Class War University. (2012). About. [online] Available at: https://classwaru.org/about/ [Accessed 24 May 2016].
Coolsaet, B. (2016). Towards an Agroecology of Knowledges: Recognition, Cognitive Justice and Farmers' autonomy in France. The Hague: International Institute of Social Studies.
Crabtree, R., Sapp, D. and Licona, A. (2009). Feminist pedagogy. Baltimore, Md.: Johns Hopkins University Press.
Criticalanimalstudies.org. (2016). Institute for Critical Animal Studies (ICAS) | Education. Liberation. Transformation.. [online] Available at: http://www.criticalanimalstudies.org/ [Accessed 24 May 2016].
Cultivate.coop. (2016). Anti-Oppression Resources for Cooperatives - Cultivate.Coop. [online] Available at: http://cultivate.coop/wiki/Anti-Oppression_Resources_for_Cooperatives [Accessed 24 May 2016].
Diaz, R. (2014). Deconstructing privilege: Teaching and learning as allies in the classroom , By Kim Case. New Horizons in Adult Education and Human Resource Development, 26(3), pp.74-76.
Dixon, B. (2015). Rewriting the Call to Charity: From Food Shelf Volunteer to Food Justice Advocate. Journal of Agriculture, Food Systems, and Community Development, pp.1-9.
Do it yourself. (2007). London: Pluto Press.
Dolleris, C. (2014). Becoming an awesome permaculture teacher.
Drew, L. and Socha, K. (2015), Anarchy for Educational Praxis in the Animal Liberation Movement in an Era of Capitalist Triumphalism, in Nocella, A., White, R. and Cudworth, E. (n.d.). Anarchism and animal liberation.
Ferguson, R. (2014). Toward 21st Century Permaculture: Peoples' Science or Pseudoscience?. Permaculture Activist, (93).
Food and Agriculture Organization of the United Nations, (2015). Final Report for the International Symposium on Agroecology for Food Security and Nutrition.
Food Sovereignty. (2015). Forum for Agroecology, Nyeleni 2015. [online] Available at: http://www.foodsovereignty.org/forum-agroecology-nyeleni-2015/ [Accessed 27 Feb. 2015].
Francis, C., Nicolaysen, A., Morse, S., Breland, T. and Lieblein, G. (2014). Bridging farmer experience and science: learning for agroecological design of sustainable farming systems. In: Organic World Congress. Istanbul.
Freire, P. (1996). Pedagogy of the oppressed. London: Penguin Books.
Friedmann, H. (2015). Governing land and landscapes: Political ecology of enclosures and commons. Canadian Food Studies / La Revue canadienne des études sur l'alimentation, 2(2), p.23.
Gadotti, M. (1996). Pedagogy of praxis. Albany: State University of New York Press.
Getvegan.com. (2016). Towards Ecopedagogy: Radicalizing Environmental Education for the Task Ahead by Richard Kahn. [online] Available at: http://getvegan.com/ee.htm [Accessed 5 Jan. 2016].
Goldring, A. (2000). Permaculture. London, Eng.: Permaculture Association (Britain)/WWF-UK.
Gruenewald, D. (2003). The Best of Both Worlds: A Critical Pedagogy of Place. Educational Researcher, 32(4), pp.3-12.
Haworth, R. (2012). Anarchist pedagogies. Oakland, CA: PM Press.
Heifer-Ecuador, (2014). The Experience of the National Agroecology School.
Hilimire, K., Gillon, S., McLaughlin, B., Dowd-Uribe, B. and Monsen, K. (2014). Food for Thought: Developing Curricula for Sustainable Food Systems Education Programs. Agroecology and Sustainable Food Systems, 38(6), pp.722-743.
Holt-Giménez, E. (2006). Campesino a campesino. Oakland, Calif.: Food First Books.
hooks, b. (1994). Teaching to transgress. New York: Routledge.
hooks, b. (2010). Teaching critical thinking. New York: Routledge.
Hunt, S. and Holmes, C. (2015). Everyday Decolonization: Living a Decolonizing Queer Politics. Journal of Lesbian Studies, 19(2), pp.154-172.
Illich, I. (1971). Deschooling society. London: Marion Boyars.
infed.org. (1994). Radical community education. [online] Available at: http://infed.org/mobi/radical-community-education/ [Accessed 24 May 2015].
Institute for Anarchist Studies. (2013). Perspectives on Anarchist Theory Journal. [online] Available at: https://anarchiststudies.org/perspectives/ [Accessed 24 May 2016].
International Initiative for Impact Evaluation, (2014). Farmer field schools From agricultural extension to adult education. International Initiative for Impact Evaluation.
Joe Atkinson Permaculture. (2015). Resources. [online] Available at: http://www.joeatkinsonpermaculture.com/resources.html [Accessed 24 May 2016].
Kahn, R. (2010). Critical pedagogy, ecoliteracy, & planetary crisis. New York: Peter Lang.
Kirylo, J. (n.d.). A critical pedagogy of resistance.
Kivel, P. (1995). Uprooting racism. Philadelphia, PA: New Society Publishers.
Kolb, A. Y., and D. A. Kolb. 2005. Learning styles and learning spaces: Enhancing experiential learning in higher education. Academy of Management Learning & Education 4:193–212.
Kolb, D. A. 1984. Experiential learning: experience as the source of learning and development. Englewood Cliffs, NJ: Prentice Hall.
Ledwith, M., Campling, J. and Ledwith, M. (2005). Community development. Bristol, UK: Policy Press.
Leff, E. 2002. Agroecologia e saber ambiental. Agroecologia e desenvolvimento rural sustentável 3(1):36-51.
Lieblein, G., Østergaard, E. and Francis, C. (2004). Becoming an Agroecologist through Action Education. International Journal of Agricultural Sustainability, 2(3), pp.147-153.
Mayo, M. (1997). Imagining tomorrow. Leicester: NIACE.
McMichael, P. (2015). The right to food and politics of knowledge. Canadian Food Studies / La Revue canadienne des études sur l'alimentation, 2(2), p.52.
Meek, D. (2014). Movements in Education: The Political Ecology of Education in the Brazilian Landless Workers' Movement. Ph.D. The University of Georgia.
Morrow, R. (2015). Permaculture Teaching Matters. Mountains Wildfire Press.
Morrow, R. (n.d.). Earth user's guide to teaching permaculture.
Napier, D. 2005. Implementing Educational Transformation Policies: Investigating Issues of Ideal vs. Real in Developing Countries In Global Trends in Educational Policy. A.W. Wiseman and D.P. Baker, eds. International Perspectives on Education and Society. San Diego: Elsevier.
Nguo, J. (2013). Re-thinking Agriculture and Extension Education. Baobab, (68).
Npen, A. (2012). Agroecology Education: Former Students' Reflections on Transferability of Tools, Skills, and Knowledge in Sustainable Development. MSc. Norweigan University of Life Sciences.
Nusconnect.org.uk. (2016). Why is My Curriculum White? - Decolonising the Academy @ NUS connect. [online] Available at: https://www.nusconnect.org.uk/articles/why-is-my-curriculum-white-decolonising-the-academy [Accessed 24 May 2016].
Organizing for Power, Organizing for Change. (2009). Anti-Oppression Resources & Exercises. [online] Available at: http://organizingforpower.org/anti-oppression-resources-exercises/ [Accessed 24 May 2016].
Park, C., White, B. and Julia, (2015). We are not all the same: taking gender seriously in food sovereignty discourse. Third World Quarterly, 36(3), pp.584-599.
Pickerill, J., and P. Chatterton. 2006. Notes towards autonomous geographies: creation, resistance and self-management as survival tactics. Progress in Human Geography 30(6):730-746.
Pretty, J. (2008). Agricultural sustainability: concepts, principles and evidence. Philosophical Transactions of the Royal Society B: Biological Sciences, 363(1491), pp.447-465.
Radical Education Forum's Blog. (2012). PUBLISHED: RADICAL EDUCATION WORKBOOK. [online] Available at: http://radicaleducationforum.tumblr.com/post/34563386245/published-radical-education-workbook [Accessed 24 May 2016].
rian Brazil. Teaching Education, 20(3), pp.215-228.
Roman, L. and Eyre, L. (1997). Dangerous territories. New York: Routledge.
Ross, R. (n.d.). The history of workers' workers' education. Post-16 Educator 62, (62).
Rossatto, C., Allen, R. and Pruyn, M. (2006). Reinventing critical pedagogy. Lanham: Rowman & Littlefield.
Stockdale, E. (2005). New Dimensions in Agroecology. Journal of Environment Quality, 34(3), p.1139.
Suissa, J. (2010). Anarchism and education. Oakland, CA: PM.
The Fabian Society, (2015). A Recipe for Inequality: Why our food system is leaving low-income households behind.
The Occupied Times. (2015). The Structure of State Education. [online] Available at: https://theoccupiedtimes.org/?p=14051 [Accessed 24 Nov. 2015].
Usher, K. (2015). Valuing All Knowledges Through an Expanded Definition of Access. Journal of Agriculture, Food Systems, and Community Development, pp.1-6.
van der Ploeg, J. 2012 The Drivers of Change: The Role of Peasants in the Creation of an Agro-Ecological Agriculture Agroecologia 6:47-54.
Van Meter, K. (2009). Workshop: What is Militant Research?. [online] Team Colors Collective: News & Events. Available at: https://teamcolors.wordpress.com/2009/06/08/workshop-what-is-militant-research/ [Accessed 1 May 2015].
Vergara-Camus, L. (n.d.). Land and freedom.
Waldenström, C., Salomonsson, L., Francis, C., Moulton, M. and Lieblein, G. (2008). Individualized student-centred education: prototype for an agroecology BSc programme. International Journal of Agricultural Sustainability, 6(4), pp.236-247.
Warner, K. (2007). Agroecology in action. Cambridge, Mass.: MIT.
Webb, D. (2010). Paulo Freire and 'the need for a kind of education in hope'. Cambridge Journal of Education, 40(4), pp.327-339.
Wezel, A. and Soldat, V. (2009). A quantitative and qualitative historical analysis of the scientific discipline of agroecology. International Journal of Agricultural Sustainability, 7(1), pp.3-18.
WhyHunger, (2015). Agroecology: Putting Food Sovereignty into Action.
Zintel, J. (2009). Food Sovereignty and the Role of Popular Education: Education and Outreach at the Seasoned Spoon.